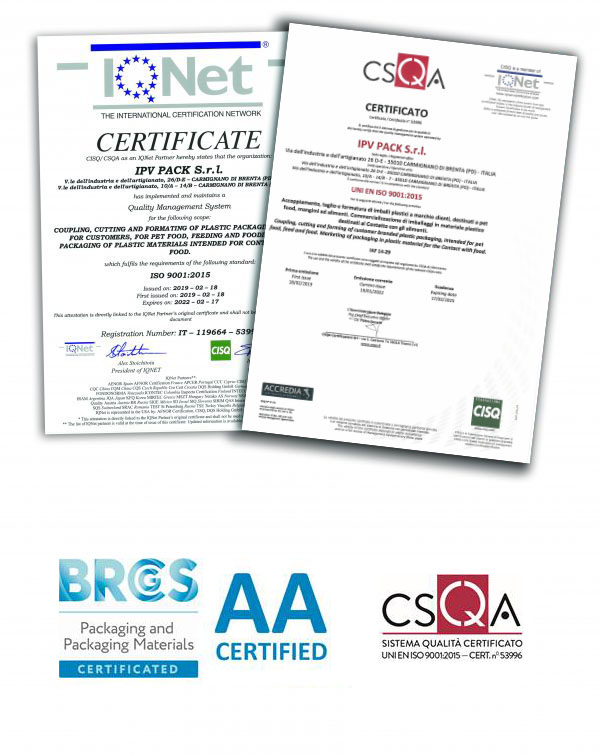 IPV PACK IS A
CERTIFIED COMPANY!
Recognition of our high standards allows us to respond to the needs of international customers and gives us global recognition in terms of quality, safety and responsibility.
ISO 9001:2015
IPV PACK has obtained ISO 9001: 2015 certification, an important international recognition that confirms the highest levels of quality and packaging solutions offered by the company. This standard was issued to the company for its work in the packaging of pet food, animal feed and foodstuffs for human consumption.
With ISO 9001: 2015 certification, IPV PACK ensures the quality of the products and services it offers, and reaffirms the highest quality standards in order to satisfy its customers, are maintained and continuously improved over time.
BRC AA
The "BRC Global Standard Voluntary Module Traded Goods" and "BRC certification for Global Standard for Packaging and Packaging Materials" for the production of bags and multilayer plastic rolls, printed and unprinted (PET / PE / BOPP / PA / EVOH / Al) for foodstuffs, dry and wet pet food and animal feeds through the processes of solventless lamination, cutting, bending, welding and bonding.
Now considered a necessary requirement to operate in the agrifood sector, the BRC standard also represents a great opportunity to demonstrate the ongoing commitment of our company with regard to safety, quality and regulatory compliance.